Friday, August 2nd, 2013
So much has happened and yet so much hasn't happened that I wanted to happen, that I hardly know where to begin.
As I write this, I'm sat in the kitchen. You know, this one: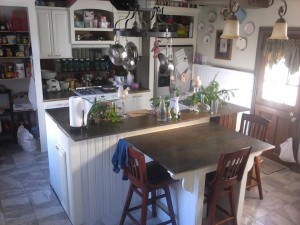 Unfortunately, however, there are piles of dishes around me, seeds drying on the side, other seeds in packets waiting to be planted, rhubarb in the sink waiting for cutting and freezing or canning, Eliza on my lap – somewhat cranky after a nap … you get the picture … and if you don't, no, I'm not going to post one!!
On the other hand, however, I have to allow for the fact that over the last two days, rhubarb has indeed gotten picked, I've basted the skirt for a Victorianesque maternity dress in preparation for this year's Winter Soirée (I should be pregnant), and that a brand new flower bed has been dug and planted along the side of the house.
Really, this swaying from the positive to negative more or less sums up the 4.5 months since I left my employment.
At this point, I have to say that on paper, the time seems so short, but it feels like it's been an eternity already!
Back to this post, however.
The Spring bulbs that we purchased last autumn were a raging success.
The colours were spectacular, a couple of the groups weren't height-staggered as they should have been, but the bed looked fantastic.
Winter was so slow to leave. Frost after frost kept hitting.
At the start of May, Eliza was able to nap outdoors while I worked in the garden preparing beds.
Frank found me something I've wanted for a while – an old Reel push-mower. It needs some work – blades need sharpening (it's supposed to be self-sharpening … but as with so many of these old things, the mechanism becomes gunked up and ceased to operate as was intended).
I though I'd try adding a stained glass effect to some of our windows. Rather than buying the sticky-back 'leading', I used a thick paint … and then filled the areas with a thinned paint.
The design took no small amount of time, and then getting the windows out was another feat.
Sadly, despite leaving the windows to cure for 2 days, we had a cold spell which caused condensation, and which caused my beautiful window to 'melt'. Project shelved.
We had some very late frosts and freezes which caused me to keep postponing planting in the garden …  the cucumbers died (all but a couple of them … and the ones that survived succumbed to cucumber beetles and the bacterial wilt that inevitably accompanies them).
Scorching heat then further postponted planting.
I had to accept, with resignation, that the winter squash and seed potato plants wouldn't get planted.
We emptied out the compost from our composting worms into one of the beds, and ended up with a bizarre assortment of squash plants (I've no idea what they are. It's the "Frankenstein bed")
Next time, I will have to just bite the bullet, and start in flats if the weather is less than ideal.
I was offered a summer position with the Fine Arts Council – overseeing their summer events (concerts and films). It's been nice to get paid to attend events, but I have to admit that I've found my teeth gritting lately over having responsibilities outside of the home.
Recreationally, I crocheted a stuffed turtle for Eliza. Amigurumi is effectively 3D crocheting.
It came out rather well, which I was pleased about.
In June, we took a trip up to Michigan to see my mother before she left in mid-July. Eliza had a lovely time playing with the kittens … until her sinuses went CRAZY with allergies. We ended up getting an antihistasmine.
I had an ongoing battle with flooding the basement. The exit hose for the washing machine jumped out of the utility sink at one point, meaning that the machine was constantly filling while constantly emptying… sigh…
Then, it started overflowing while it was filling up (basically, not shutting off).
In the end, Frank took off the front panel, as I'd read that perhaps the level sensor might be block.
Yes. It was blocked. With soap solids (blame it on the thicker chunks that tend to be in my homemade laundry detergent).
I can't tell you how many times I've gone down to the basement since then with a half-sinking-feeling that perhaps the basement was flooded again.
On the 4th of July, someone crashed into our wall.
His car was pretty trashed (as was the wall), but unlike the drunk driver from last year, this guy was insured.
We got a considerable pay-out which, coupled with my work for the Arts Council, helped to get us through a very bleak-looking time in our finances.
posted under General