"Hilda" is the attempt at order created out of chaos.
My mother was very busy, and never was able to teach me or my sister house-keeping/home-making skills …
Keeping a small apartment with minimal possessions in order wasn't too difficult (though the dishes and laundry did pile up from time to time due to procrastination), but a large Victorian house with three dogs and a baby proved to be a different matter altogether.
The list of things to do became overwhelming, and as a result, we didn't know where to start, so we never did.
I found that it was becoming more and more difficult to find the time to do anything – not a good place to be, when I knew that it was simply a time-management issue.
I had acquired a second-hand, but un-used copy of Victoria Magazine's 'A Home Planner', which provided me with ideas on implementing practices to get my house (and life!) in order and keep it that way, but it wasn't flexible enough for me.
It was spiral-bound, which meant that I couldn't simply add/remove pages as needed, and the dividers and sub-dividers weren't quite as exhaustable as I wanted my planner to be.
So I decided to make a planner/organizer to keep everything in order.
As I thought that it might be a good idea to use the routine practices at my workplace, I didn't feel that I could use the words 'House' or 'Home' in my binder cover title.
The simple outcome was to treat this book as my maid, and give her an old-fashioned maidly name.
With yeahbaby.com stating that the bearer of the name I chose 'would have a real hard time finding matrimony', and that she 'would also scare away the most reasonable of suitors', I felt I had chosen suitably!
Of course, I wanted my binder to look as attractive as possible, so chose a cute maid clipart image to represent my maidly namesake.
Meet Hilda.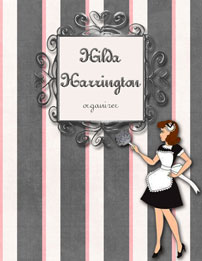 view the master organizer divider/page list
————————————————————————————-
"Hilda" was created and is maintained by Rebekah Mancino Ortzen-Abbott.
Save
Save
Save